How do we determine adoption fees for our foster dogs?
Sometimes people ask us why our adoption fees are "so high" and observe that other rescues and shelters have lower adoption fees for their dogs. Small Dog Rescue is committed to the highest quality care for our dogs, and this includes the highest possible vet care available to us. We are fortunate to work with vet clinics who offer us discounted rates, and we wouldn't be able to run the rescue without them. Small Dog Rescue is a true no-kill rescue, which means that we give vet care to dogs even when it is expensive and inconvenient. Many of these dogs wouldn't survive in a traditional shelter and have been rejected by other so-called no-kill rescues who prefer to only accept young, healthy, and easily adoptable dogs.
Small Dog Rescue of MN believes that every single dog deserves a chance at a happy life, regardless of whether or not they are in need of an expensive surgery or a session with a behaviorist to help them heal from past injury and abuse.
Because we sometimes spend several thousand dollars on a single surgery for a dog in need, we need to keep our adoption fees higher than average in order to continue to operate. We are an all-volunteer organization and depend entirely on donations and adoption fees to continue our vital work to save dogs' lives.
Where does my donation go?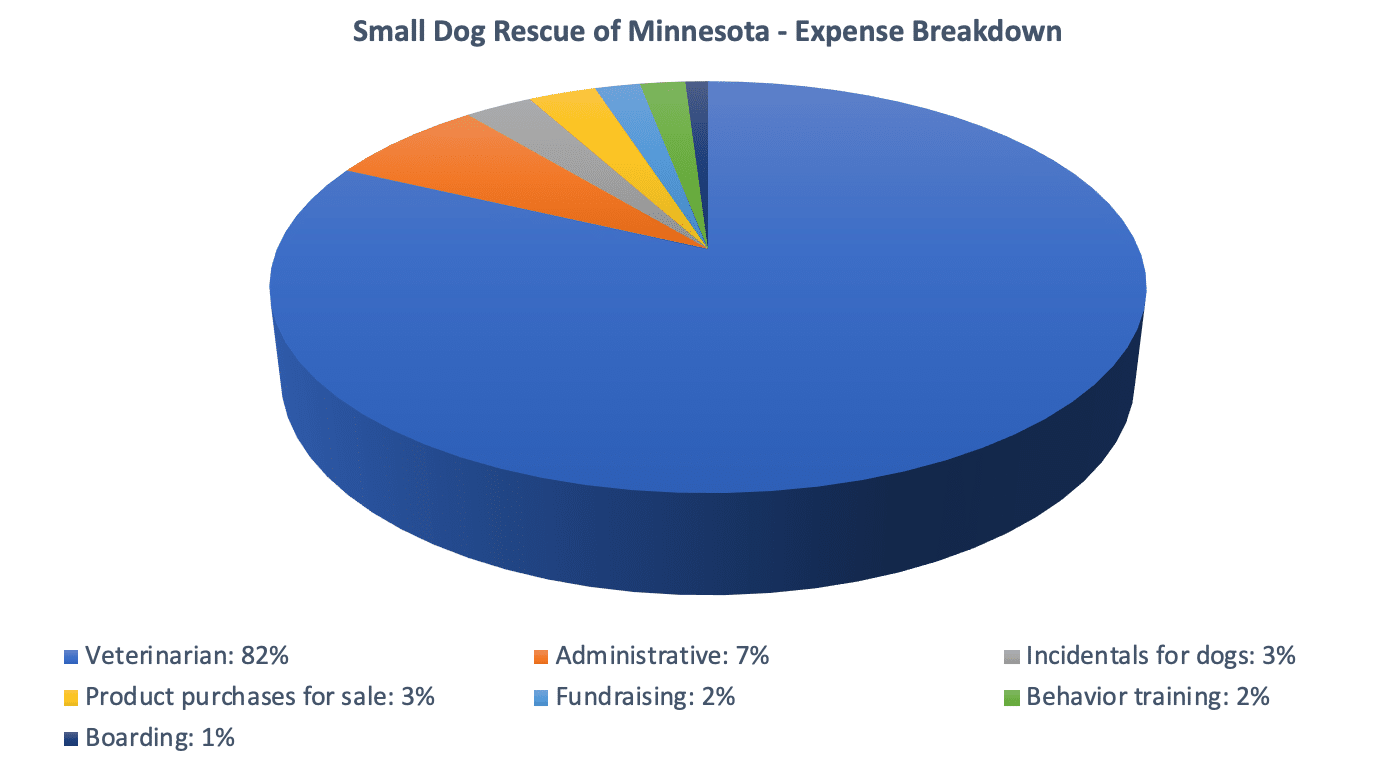 Small Dog Rescue of Minnesota ensures that almost 90% of your donation goes directly to the dogs in our program. Thanks to your contributions, SDR of MN is able to ensure each dog is spayed or neutered, up-to-date on vaccinations and has a thorough general examination upon arrival. Many dogs are in desperate need of dental work and some even require major surgery.
Our expenses break down as follows:
Veterinarian:82%
Administrative: 7%
Incidentals for dogs: 3%
Product purchases for sale: 3%
Fundraising: 2%
Behavior training: 2%
Boarding: 1%
Why is our adoption process so involved?
Maybe you're asking, "Why so much investigating? What is this all about?" Please, don't take our adoption process personally or negatively, as it is merely our way of ensuring that we place dogs into safe, stable, loving, and permanent homes. We are a small dog rescue, and this means that the animals currently in our care did not find permanent and stable homes in the past. In other words, they've been let down before, and we don't want to let them down again. Therefore, we must do everything in our power to make sure they are going to great homes.
Each applicant goes through the same rigorous application process because we're looking for only the very best candidates for our dogs' forever families. Our foster volunteers go through a similar process, too.
Trust us, these little guys are worth all the time and effort!
Why don't we use the term "owner"?
Small Dog Rescue of Minnesota is very proud to be the first rescue in our state to join the Guardian Campaign. You may have noticed that we never, ever use the term "owner" when referring to the human part of the human-dog relationship. That's because we strongly believe that using the term "owner" is damaging and dangerous for animals.
You see, the term "owner" makes animals into mere property. Commodoties or things. And we know they're not. Using the term "guardian" is much more representative of the way we feel about our beloved companions. They're family members we have intimate and special bonds with. And using the term "guardian" also emphasises our responsibility to care for, provide for, and protect them. This subtle, yet powerful, change in launguage instantly elevates the status of our dogs and communicates that to all who read or hear us sharing about them.
It may appear to be an insignificant change, just some trivial play on words - but we believe it's not. Because animals are legally regarded as property (which is why we are required to charge sales tax when processing adoption fees even though we don't regard adoptions as "sales" - but the law doesn't see eye to eye with us on that issue) they do not have nearly the protections they deserve. And changing the public's perception about animals is an important step to them attaining the legal and social rights they deserve - to be recognized as individuals who care what happen to them and don't want to be abused, abandoned, neglected, or hurt.
We invite you to join us in this small but significant and powerful change in launguage. Because when you refer to yourself as your dog's guardian, you're saying that you recognize that he or she is someone who can experience love, loss, pain, joy, sadness, fear, and a whole lot of other things humans do too. And that matters.